The perfect combination of city life and natural beauty
Western Massachusetts offers great opportunities for the amenities of urban living combined with natural beauty. Springfield is the third largest city in New England and is also a short drive away from Boston, New York City, Providence, Albany and Montreal. Springfield′s 17 diverse neighborhoods offer a great mixture of shopping, eating, and general recreation that can cater to any interest.
A short distance west is the Berkshire region, with wonderful towns and recreational opportunities as well as world-famous Jacob′s Pillow, which offers Dance performances and programs.
Further north is the 5 college area, composed of University of Massachusetts Amherst, Hampshire College, Mount Holyoke College, Amherst College, and Smith College. Each college offers arts and entertainment as well as sports performances and are less than a 30 minute drive from Springfield.
Western Massachusetts offers a great number of year round outdoors recreation including hiking trails, rail trails, skiing, mountain and road biking. The Springfield Paddle Club offers many opportunities for those who enjoy recreation on the water at the 11-acre bass pond right in Springfield. For the more adventurous,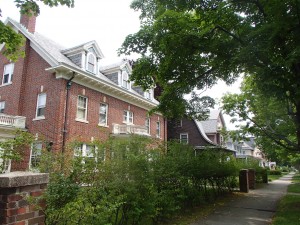 mountains in the Berkshires or in Vermont are both a very short drive from Springfield.
Unlike other major cities, you do not have to travel far to enjoy city life or natural beauty in Springfield. Even without a car, the Peter Pan Bus Lines service or Amtrak can help you reach many of these attractions and leave from Union Station in the heart of Springfield.
Bradley International Airport located in Windsor Locks, Connecticut is 20 minutes south of Springfield offers flights throughout the country and a new nonstop service to Amsterdam on Northwest Airlines, easily linking Hartford with the rest of the world.